13th Annual Men Who Cook
September 26, 2020  Join us on Facebook!
Men Who Cook Chef Videos 2020
Chef Dan Trazenski Cooking with Chords
Chef Todd Liu Griffin Health
Chef Brian Fonck & Anthony Giobbi Newtown Savings Bank
Message from our Community Leaders
Cooking with Chords Chef Dan Musical Selection
Chef Kya Hunter Special Guest
13th Annual Men Who Cook is September 26th on Facebook
     We have made the difficult decision to NOT meet at Warsaw Park on September 26th however, we will still have a virtual fundraiser. What will this look like?
We plan to have Chef's make their famous dish in a state of the art kitchen in Oxford through the generosity of Griffin Hospital. It will be like having your own cooking show segment with no more than 2 men at a time. Cooking slots are limited and will be on first come first serve basis. Registration is required. These segments will be pre-recorded July 21st, 23rd, 28th, and 30th. Chaz from WPLR will virtually host our event.
     In addition, on September 26th, 6:00 PM – 7:00 PM you have the option of hosting a fundraising BBQ/cooking at home with family and friends. Those who register for this option will receive a link to join the fundraising cooking show. But wait there is more!
We will have an online auction from Saturday, Sept 26 to Tuesday, September 29th. 
Any questions please contact Lisa Savoid at 203-736-5420 Ext 1221 or email: lsavoid@teaminc.org
If you you would like to make a donation towards TEAM's programs please click the donation link below
TEAM Inc. is about helping people, changing lives, Educating Children and Strengthening Families.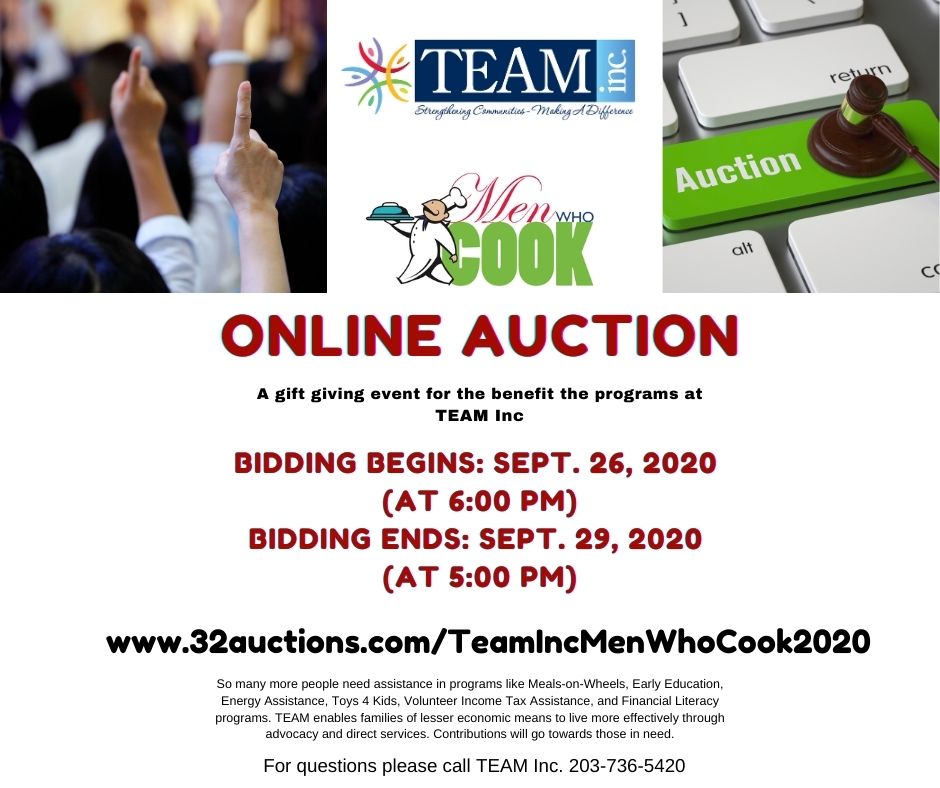 Thank you to all of our sponsors!