Toys 4 Kids 2021
Make Magic Happen for more than 1600 Children in TEAM's Region
Click on the "Valley Independent Sentinel" to learn all about TEAM Toys4Kids including its early launch for the 2021 Holiday Season:

For decades, TEAM Toys4Kids has led the way with the largest holiday toy drive in the region – providing thousands of toys to more than 1,650 vulnerable children in the last year alone. This immense achievement is made possible by the exceptionalism of more than 160 toy drop-off sites (local businesses, banks, libraries, & more), countless community events in the region, and hundreds of donors & volunteers including YOU (thank you!). The conditions of COVID-19 and the world we live in today brings significant concern and worries as to the capacities and capabilities to ensure that Santa is able to make the magic happen for thousands of children this Holiday Season. From all of us at TEAM Toys4Kids, we must conquer any and all obstacles brought upon by this global pandemic, and with your help we will make the magic happen this December for more than sixteen hundred children and their families in TEAM's region.
We are appealing to you today; please consider a financial donation to help provide toys this holiday season (DONATE link is right here on this web page!) – generous donors like yourselves will make all the difference in our success! TEAM has leveraged the purchasing power of local and national toy & gift distributors – this means we can stretch the donated dollar more than ever as these companies have agreed to allow TEAM to purchase the toys at wholesale cost. We are also developing web site opportunities for online purchasing of toys that can ship directly to TEAM where we will coordinate with Santa in their delivery for the Holiday Season! For more information on TEAM Toys4Kids – including any creative ideas and strategies to make this difficult time amidst COVID-19 conditions a success, please reach out to us anytime: info2@teaminc.org or 203-736-5420. Thank you so much for your generosity and contributions!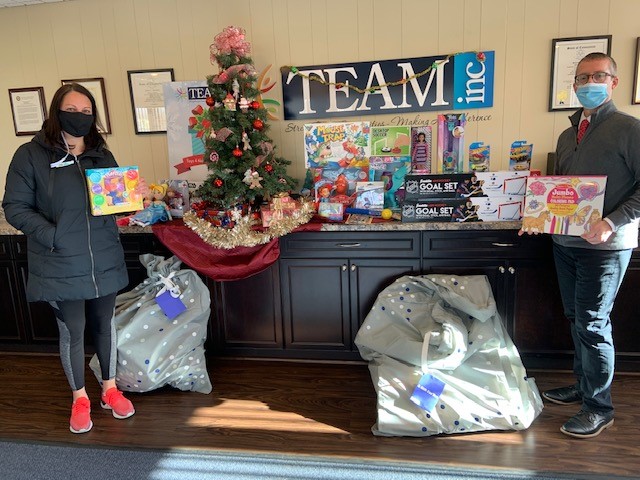 Click on the below video to see how TEAM staff & volunteers made magic happen despite the challenges of COVID-19, and we're ready to MAKE MAGIC HAPPEN again in 2021!
Countdown to Making The Magic Happen!